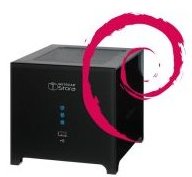 As I explain on previous posts, I adquired a cheap two SATA bays home NAS, called Netgear Stora. After the disappointing privacy a features unfunctionalities the manufacturer give to us, the community again have achieved to develop an alternative way to open and use the software for this device, It is now achieved!! you can run an standard ARM Linux distribution on it!!
The hardware have:
-2 SATA bays.
-1 GB ethernet port
-1USB port
-ARM CPU
Processor : ARM926EJ-S rev 1 (v5l)
BogoMIPS : 992.87
-128Mb of RAM
-220Mb of flash Storage
-ventilator
-LEDs power, disk1, disk2
On my case, I have installed a flavor of Debian called emdebian.


I have installed emdebian distribution on flash disk, but if you prefer, you could install a standard ARM Debian distribution using the hard disk.
It is a fantastic hardware to have a home Debian server.
If you are interested on this machine there is an active community on: http://hardwarehackersunite.com/.
The how to instruction are here: Howo to install Debian on Netgear Stora