I have been always an amateur sciencist person, I like a lot Carl Sagan, astronomy, maths and computers. One devices that fascinated me a lot are sundials, I have combined it with my computer knowledge, and this is my contribution to the 2.0 sundial technology. 🙂 This post explain what I have done 🙂
I have designed is about paper sundials, sundials are tools that tells you the time, only with the shadow of the sun, to design a sundial you need to know exactly, where are you going to put it, you need to know the longitude, the latitude and the orientation of the wall with respect to North.
I have designed a web page, integrated with Google Maps, that helps you to find easily all the parameters needed, and finally produce a printable page, with a sundial paper cut, that can be cut and folded and give you a vertical Sundial.
This page allows you to make your own Cut Out Paper Vertical Sundial customized to your place on earth and the declination of the wall you are going to put it.
You will obtain a paper sundial like this:
the webpage gives you a printabel PDF, that you only need to cut and fold, this is a sample: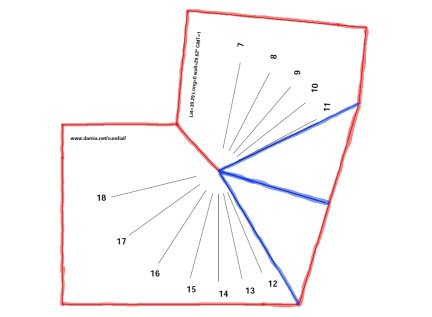 You can enjoy my webpage on: PAPER SUNDIALS